September 20, 2016 – Elkhart, IN
Midwest Automotive, a Merion Portfolio Company, Recently Announced Their Addition of a New Luxury Vehicle.
In the world of exotic sports cars, the term Grand Touring has always designated a vehicle that blends style, performance and comfort – and turns any road trip into a highly enjoyable journey.  Now, a new luxury vehicle has emerged that brings the same level of refinement and motoring possibility to a very different sort of performance machine: The executive van.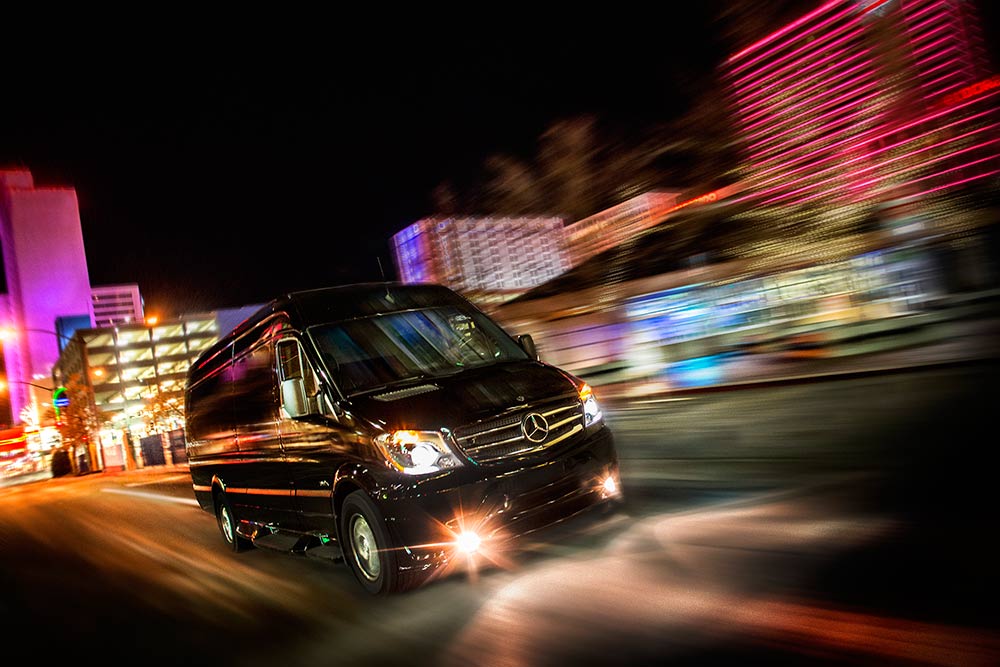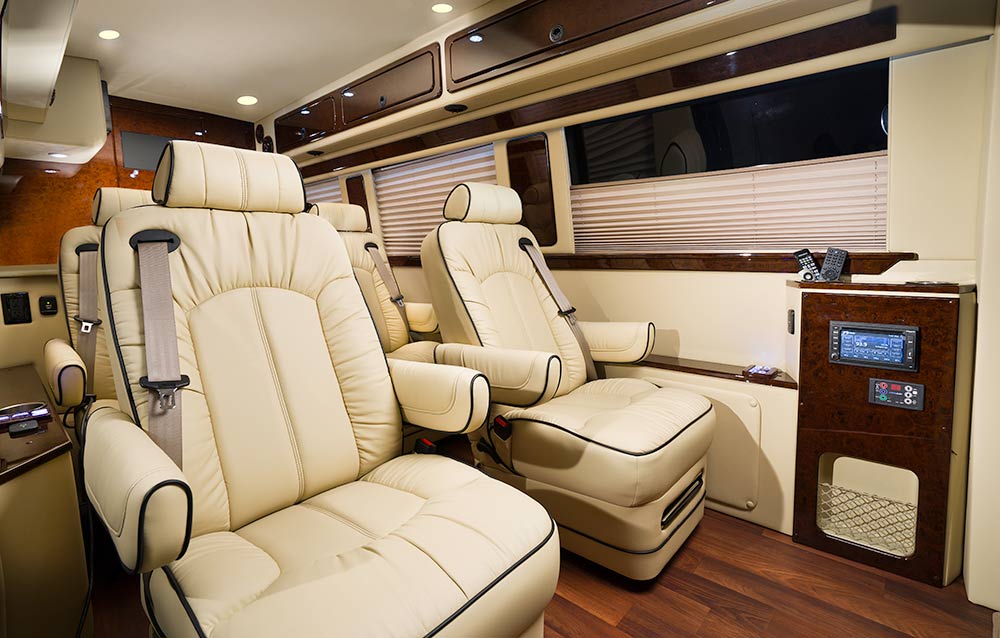 Called the Grand Touring Coach, it's the latest in a line of luxury van conversions by Midwest Automotive Designs, one of the world's premier Mercedes-Benz Sprinter van customizers.  Their new Grand Touring Coach is a showcase of what's possible when Midwest's custom craftsmen and digital wizards take a standard Sprinter van and give it a serious makeover.
Outside, it presents a sleek, stylish appearance befitting the lifestyle of the busy executive.  Inside, you might think you've boarded the cabin of a multi-million dollar private jet.  It's part mobile office, part rolling pleasure palace.
There's leather everywhere, much of it double-stitched.  The beautifully lustrous wood veneer that trims the interior is fitted to perfection, displaying a levvel of craftsmanship that's a source of deep pride for Midwest, a premier Mercedes-Benz Sprinter van "upfitter" based in Elkhart, Indiana.  It's a part of the country that once produced some of the grandest touring cars ever made – with names like Auburn, Cord, Marmon and, of course, the legendary Duesenberg.
"Our new Grand Touring Coach really does evoke that classic sense of style and elegance," says Midwest Automotive Designs President Tim Gray. "But what astonishes people is the level of technology we're now able to surround you with."
Midwest's luxury conversion specialists leverage the Mercedes-Benz Sprinter van's exceptional engineering to deliver a powerful, precise and fuel-efficient driving experience.  But it's the passengers who truly get to enjoy the mobile entertainment center inside Midwest's Grand Touring Coach.  Settle into the sumptuous captain's chairs, and access to satellite TV, Wi-Fi, iPads and a premium sound system is at your fingertips.
Clearly, traveling by Grand Touring Coach means you'll remain highly productive on the road.  And with added features like a microwave oven, sink, bathroom and ample storage, it's also equipped for weekend getaways or week-long road trips.
"That's the big selling point these days," Gray notes.  With the hassles of commercial airline travel and the expense of corporate jets, the always-on-the-go business executive is discovering there's a compelling alternative.  "They quickly come to see a luxury van as a necessity," says Gray.  "It complements their lifestyle in a way that's unique, allowing them to use it for business, for business entertainment, or simply for quality time traveling with their family and friends."
The new Grand Touring Coach Sprinter van is Midwest Automotive Design's answer for executives who want to defy freeway gridlock and get way from what's outside, or clear their schedule and get away to… wherever.
For more information on the Grand Touring Coach, or for details on Midwest Automotive Design's complete lineup of custom luxury Sprinter vans, call (574) 522-4878 or visit mwautodesigns.com.