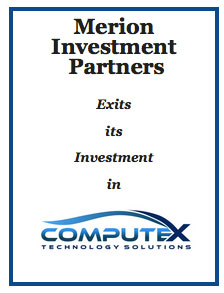 Merion is pleased to announce a complete exit from Computex through a recapitalization by a Senior lender.
Computex is an IT Solutions provider focused on the private cloud, virtualization, storage and networking segments.  The Computex portfolio of services includes break fix, consulting, remote management and monitoring, and hosting via IaaS or cloud.

Merion supported the company funding both the initial acquisition as well as a subsequent add-on.  During Merion's investment period the company grew revenue 54%.