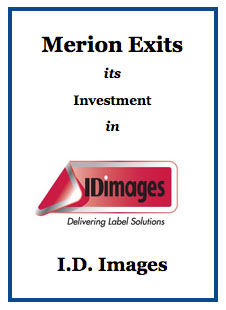 We are pleased to announce a successful exit from I.D. Images through a recapitalization by a Senior Lender.
In 2007, Merion provided capital for a Management Buyout.  During Merion'sinvestment, I.D. Images successfully de-levered through cash generated by operations.
Based in Brunswick, OH, I.D. Images provides specialty labels including thermal transfer labels, laser and inkjet printers, digitally printed labels, films, and integrated labels.  I.D. Images is a full service provider, assisting in every aspect of label sales, from the initial label training to joint end-user sales calls and product marketing.